Wayfair Debuts Augmented Reality App to Elevate the Retail Experience
Customers can see and "try" products in 3D before they buy
---
---
---
"We're really a technology company that happens to sell furniture," says Mike Festa, director of Wayfair Next, the innovation center for the online furniture retailer, where a team of 25 full-stack engineers designs and prototypes the next generation of augmented and virtual reality experiences for the brand's customers.
Festa's framing of the company mission sounds almost defiant – as in, we dare you to compare us to IKEA – but as an e-commerce-only seller of furniture and homeware, barring one outlet in Kentucky opening early this year, Wayfair was never your typical Crate and Barrel.
Known for hosting yearly summer hackathons, Wayfair has a voracious appetite for digital innovation; a history of collaborations with tech giants Google, Microsoft and Facebook, and an ongoing partnership with Magic Leap, a Florida-based startup currently working on a head-mounted virtual retinal display, which superimposes 3D computer-generated imagery over real-world objects.
The fruits of that joint venture have been to completely revamp customer expectations of how to shop for furniture online – or anything, really – through their first mixed reality e-commerce experience.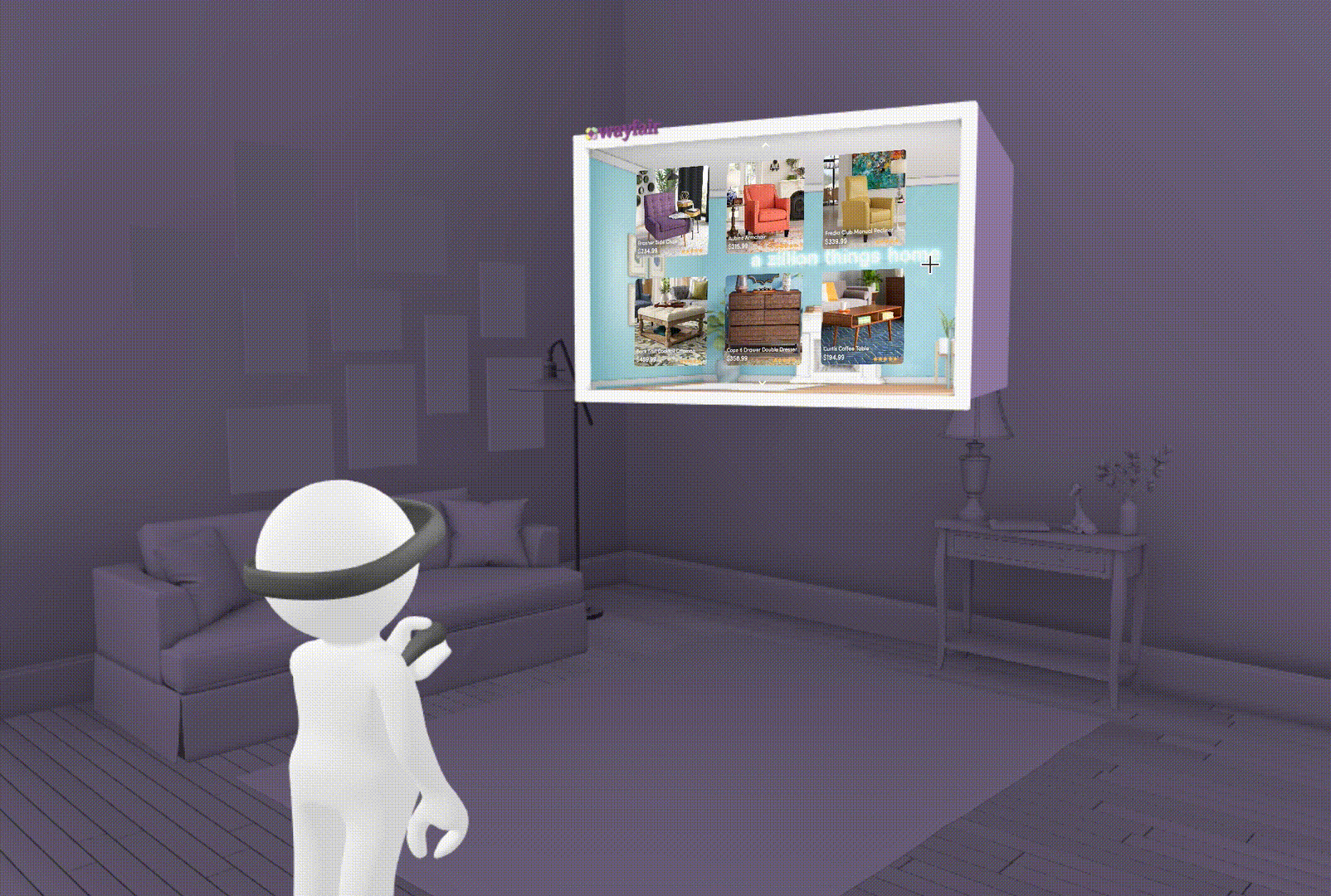 On the Wayfair app for iOS and Android, customers can experience an augmented reality shopping experience through their tablet or smartphone, where they can pull high-resolution, 3D renderings of products and see them superimposed in a real-world context. Say you're eyeing a new dining set – simply drag the item from the menu bar on your screen into a 3D rendering of your surroundings.
"The result is that you can see this dining room set at scale, and you can walk around it, see it from different angles, observe how it would look and fit in your space," Festa said in a webinar with CCW Digital, Elevate Your Contact Center with AR & VR.
Unlike virtual reality, which is an immersive experience, augmented reality superimposes a computer-generated image onto a user's view of the real world, so you can see what a new ottoman would look like in your living room rather than a staged room.
One of the biggest dissuading factors for buying items like furniture, clothing and shoes online is the inability to try before you buy – hence the wave of innovation and experimentation among online retailers to make the e-commerce experience easier for customers to evaluate the product and imagine using it beyond simply gauging product photos, specifications and reviews. In other words, the aim is to help the customer feel an emotional connection to a product they can't yet see or touch.
Source: Wayfair Next
"When a product has a nice, warm, inspirational setting and it looks like it was part of a photograph versus just being a product on a white background, that really has more of an emotional connection," explains Festa. "It makes it easier for a customer to understand what the product would look like in context and give them an inspiration for how their own space could look."
Interior design being a matter of visual taste, the purchasing decision hinges not just on the specifications of the product itself, but how it fits within the home in terms of dimension, aesthetics and function. Wayfair developed these mixed reality capabilities not just as another AR/VR/MR/XR platform for product visualization, but as a new computing platform to be used as a productivity tool.
"Our team looks at emerging technology and thinks about how that can apply to benefit our customers today and especially tomorrow," says Festa.
Home Depot boasts a similar though much more basic AR app, Project Color, which enables customers to experiment with different shades of wall paint by taking a photo of their surroundings and "painting" over the walls. Meanwhile, Mastercard and Next Retail Concepts pioneered an immersive online purchasing experience which involves generating 3D renderings of a brand's physical store. Customers can "walk" through the store, grab items off the racks and view product information, rather than mindlessly scrolling through photos of products with white backgrounds.
"What better way to shop for the home than from home?" Shrenik Sadalgi, Wayfair's director of next generation experiences, writes in a post on the Wayfair Next technology blog. The Wayfair Next team has also experimented heavily with applications for the Oculus Rift VR headset, even though, Festa admits, "this is not really our customer base."
Wayfair Spaces is an inspirational interior design experience that shows you curated room ideas through Magic Leap One, a spatial computing platform, to blend AR and VR for a mixed reality experience. Users can browse a range of "dollhouse-like" scenes styled by Wayfair 3D artists and designers and then drag the products out of the dollhouse into the real world using a the compatible controller. You can view product information and reviews or swap in similar-looking products to see what looks best in the room.
"We've focused more on the Oculus experience being something that we could showcase to our suppliers or partners just to say, this is what we think the future looks like," said Festa.
Given the popularity and potential of the augmented reality shopping experience, Festa's team works alongside a dedicated '3D Visualization' team whose job is to use 3D modeling software to render 2D photos, producing thousands images per month. To create these 3D assets, the staff has to work with the brand's 10,000 or so suppliers to source CAD and drawing data or additional photos and product specs. The result is high-resolution 3D assets, which are large files with high detail, geometry and textures.
"Even if it is a long-term investment and it may be a while before the average customer is wearing some type of magical, augmented reality glasses, we think that is a future that is going to happen and we want to make sure that not only are we there first but we're also helping to define the standards and drive the industry."